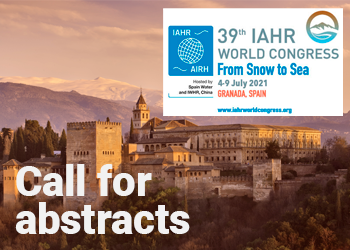 IAHR and the Congress Organising Group invite you to take part in the 39th IAHR World Congress 'From Snow to Sea' to be held in Granada, Spain, from 4 to 9 July 2021. The Congress aims to provide scientists, engineers, organisations, central and local authorities, companies, and young professionals early in their careers a stimulating opportunity to share and discuss recent advances and experiences, and identify innovative and emerging trends in hydro-environmental science and engineering.
Organized around eight themes, aiming to provide an integrative and interdisciplinary platform for science, engineering and societal policy to meet, the Congress will bring together the water science, engineering and management community to help address the world's most pressing water challenges.
The 2021 Congress promises to be both exciting and fulfilling for everyone. Your active participation will be the basis of this Congress' success, and we look forward to receiving your original contributions. We are pleased to announce that the online abstract submission process is now open. The abstract submission deadline is 1 October 2020. All abstracts will be peer-reviewed and the Congress International Scientific Committee (ISC) will inform contributors if their abstract has been selected by December 2020. Authors will then have a two-month period to submit their full papers, after which they will be reviewed for final acceptance.
The 39th IAHR World Congress organizers look forward to your contributions and meeting you all in July 2021 in Granada. Please contact us should you have any questions regarding the Congress.