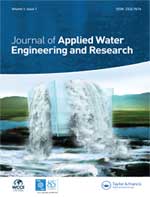 The Journal of Applied Water Engineering and Research (JAWER) publishes papers and practical case studies on all aspects of hydro-environment engineering and research. JAWER welcomes applications related to integrated water resources management and hydro policy and aims for international dissemination of innovative methods that will specifically showcase studies on interfacing technology-based solutions within the hydro-environment and their ecological value and services.
This issue contains several articles on water distribution networks and water treatments with different focuses, as well as cases reports on a catchment in Iran and on deep-sea tailings outfall in the tropical south Pacific.
IAHR members can access the latest issue online.
Journal of Applied Water Engineering and Research (JAWER)
Volume 8, Issue 2, 2020
Article
Akbar Shirzad. Pages: 79-87 | DOI: 10.1080/23249676.2020.1761895
Case report
Mahshid Ebad Ardestani, Ebrahim Sharifi Teshnizi, Parham Babakhani, Masoud Mahdad and Mohsen Golian. Pages: 88-107 | DOI: 10.1080/23249676.2020.1761896
Articles
Waqed Hammed Hassan, Zahra H. Attea and Safaa S. Mohammed. Pages: 108-124 | DOI: 10.1080/23249676.2020.1761897
Shaghayegh Ben Mohammad Khajeh and Mohammad Vaghefi. Pages: 125-138 | DOI: 10.1080/23249676.2020.1761898
Case report
Albert Tsz Yeung Leung, Aurelien Hospital, Chris Young, Daniel Potts, James Stronach and Allister Thompson. Pages: 139-160 | DOI: 10.1080/23249676.2020.1761899
Article
Anwar Ahmad, Sultan Al Ghadeer and Talal K. Al-Hosni. Pages: 161-170 | DOI: 10.1080/23249676.2020.1761900