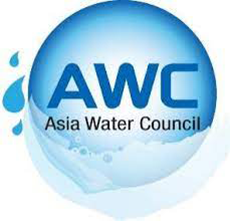 The Asia Water Council (AWC) is a global water network focused on providing tangible solutions to Asian water challenges, facilitating multilateral discussions among stakeholders, and creating future opportunities towards the implementation of water solutions supporting the Sustainable Development Goals (SDGs) in the region.
Asia is home to 60 per cent of the world population, accounts for 30 per cent of the total land on Earth, and hosts the largest population suffering from open defecation, water-borne diseases, and lack of water access and sanitation facilities. Chronic water disasters, such as floods and droughts, are urgent issues that persistently affect the livelihoods of Asian people. In this regard, the AWC works to develop evidence-based water policy, providing technical assistance and capacity-building programmes, promoting research and discussion, carrying out water projects, and building solid networks where diverse water-related stakeholders can participate in order to improve this situation, ensure water security, and achieve SDG6 in the region.
The IAHR shares those objectives and interests and works in Asia through its Asia Pacific Division. We are proud to announce that we have decided to become a member of the Asia Water Council in order to join forces and help improve the situation in the region.
The Asian Water Council and the Ministry of Public Works and Housing of Indonesia will host the 2nd Asia International Water Week in Labuan Bajo, Indonesia in November 2021 in collaboration with its members, partners and water-related organizations around the world.