Upcoming Events Research Areas Collaborative Activities Best Paper Award Past Events Publications
Scope

Hydraulic structures engineering is one of the most important fields of civil and environmental engineering with challenges arising from new and complex environmental issues, refurbishment of aging infrastructure and increasing resilience to climate change. Such challenges will require the combined efforts of both researchers and practitioners in future years. The purpose of the Hydraulic Structures Committee is to champion the subject area of hydraulic structures in an era of increasing specialization in the hydraulic profession. There are important new developments in the planning, design, construction, and life cycle maintenance of hydraulic structures that are to be addressed by both researchers and practitioners. To help facilitate these efforts, the Hydraulic Structures Committee has the following objectives:
to champion the area of hydraulic structures in an era of increasing specialization;

to help with the adaptation of hydraulic structures to reduce footprint and impact and instead harmonise with the surrounding environment;

to bridge the gap between researchers and practitioners by engagement with government water agencies, participation in codes and standards committees and writing and promoting technical publications;

to identify knowledge gaps where hydraulic research can be applied;

to provide a solid knowledge and experience base for design of hydraulic structures;

to encourage continuing education in hydraulic structures through specialty conferences, short courses and educational curriculum;

to gather competent data bases from the laboratory and field to encourage advancements in modelling, theory, observation, and technology;

to collaborate with other organizations in the advancement and understanding of hydraulic structures in the natural environment.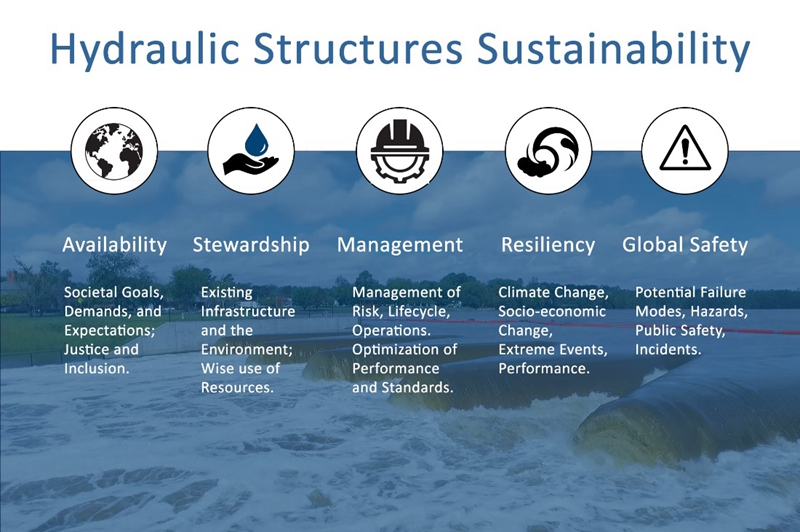 Sustainability framework for hydraulic structures engineering
Upcoming Events ↑